Welcome on bord

The MAAK-LINIE is offering city, canal and harbour tours around the historical island of the old city of Lübeck.

The boat ride takes approx. one hour. During the tour you will see the oldtimer sailing ships, the 7-tower-panorama of the old hanseatic city as well as the harbour and docks. Furthermore you can see the romantic "Lachswehrgraben" (salmon chanal), the scenic "Gängeviertel" (box houses which only could be reached via very narrow passage ways) and the painter's corner.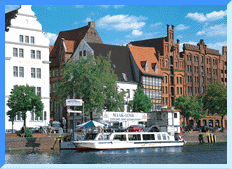 Among the fascinating sights are historical buildigs and churches as well as the famous an world known "Holstentor".

During the tour a written English guide book is available at no charge. For travelling groups a guide in any language can be provided with paid booking.

Individual charter tours to Travemünde, Gothmund, Hamberge, Berkenthien or Mölln are possible for travelling groups, weddings, birthday parties, company outings, etc.

Our bord-restaurant offers a wide variety of drinks and snacks as well as individual catering service for groups.

No visitor of our beautiful and historical city of Lübeck should miss an expedition with one of our sightseeing ships.